Lauren Deakin Davies, A pop/indie record producer and songwriter recently won the European Pro Sound awards for Breakthrough Studio Engineer as well as (for the second year in a row) NMG's Producer of the Year Award in 2017 & 2018. She has also been added to the She said so top 100 alt music power list for 2018 and 2019. At 23, Lauren is a studio owner with many engineering and production accomplishments that include 10 albums (6 as sole producer) of which 2 are award-winning, over 25+ EPs, and has produced or written 200+ commercially released tracks.
—-
She is a keen advocate of encouraging younger (and older!) generations of musicians and producers to get into the industry and has been touring round the country give talks and lectures on advice of how to get a foot hold into the field, with a particular focus on groups of people who might find it harder to get the initial leg up.
She started out with her own studio at the age of 17 in 2012, and by the age of 18 gaining her first BBC radio 2 play. In 2013 she was hired at Creamroom Recordings, but still primarily working independently at her studio. At 21 in 2016, Lauren got her first big session working with Laura Marling. As well as becoming the Engineer/producer for Balcony TV London 2015 – 2017As of August 2018-May 2019 was hired as an engineer at Soundlab Studios and getting her teeth such in to many projects involving full band tracking to becoming the engineer for Black Box where pervious artist such as J Hus and Dave grew from. Now in 2019 works in a private studio as a production assistant and still runs sessions out of her studio, The Den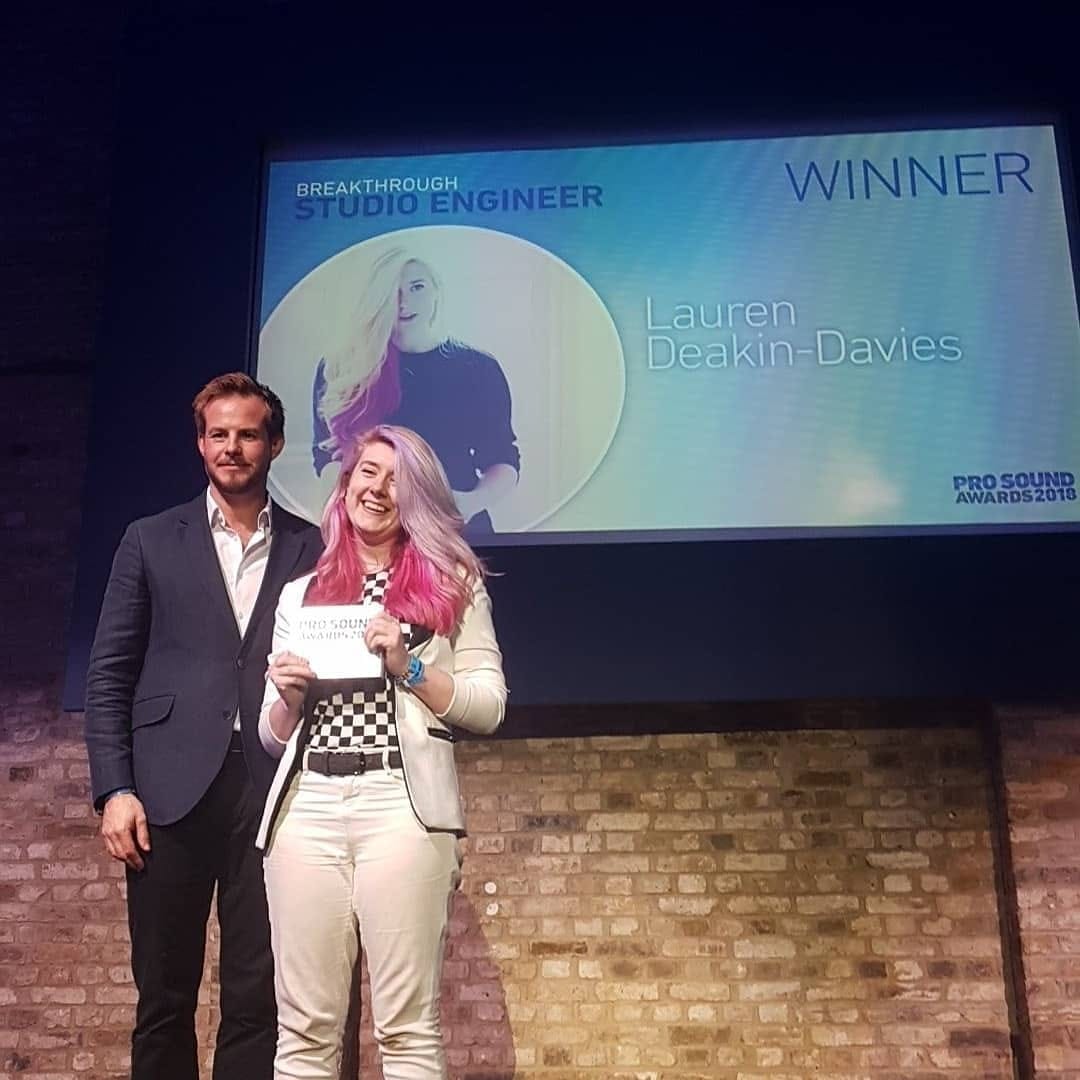 Talks and events
Invited by PRS to run residency in Old chapel Studio as a producer (April 2019)

Invited to conduct a lecture at AES university - Production and Engineering (April 2019)

Invited to do a residency at Pro7ect as a head producer (Feb-March 2019)

Invited to conduct a lecture at UEL - Production and engineering (Dec 2018)

Invited by UK music to speak at BBC Introducing Live (Nov 2018)

Invited to Speak at Women In Music Leeds - production and engineering (Oct 2018)

Invited to speak at FastForward - Balancing commerce and Art (Sep 2018)

Invited to speak at BBC introducing UK music MAP Roadshow at Bimm, Bucks Uni, LIPA, and The Brit School (April 2018)

Invited to present at a female entrepreneur Symposium at Huddersfield University with a focus on discrimination with the LGBTQ environment (in Sept 2017)

Invited to conduct a #normalnotnovelty women's only production workshop at Red Bull Studios, London (July 2017)

Invited to run a lecture at Impington College in Cambridge (May 2017)

Invited to run a session for music producers by Bare Bones Studio in Bristol (May 2017)

Judge and award presenter for NMG Awards 2016

Invited to be on a panel for the MPG at the NEC Birmingham (2016)

Board member of the Beats Board at FAC (Featured Artists Coalition) since 2016

Youngest full member of MPG (Music Producers Guild) since 2016
Lead Producer on three successful grant funded applications from: Help Musicians UK (Kelly Oliver), Arts Council Wales (Danielle Lewis) and PRS for Music Lynsey de Paul prize (Emma McGrath) and (Zoe Wren)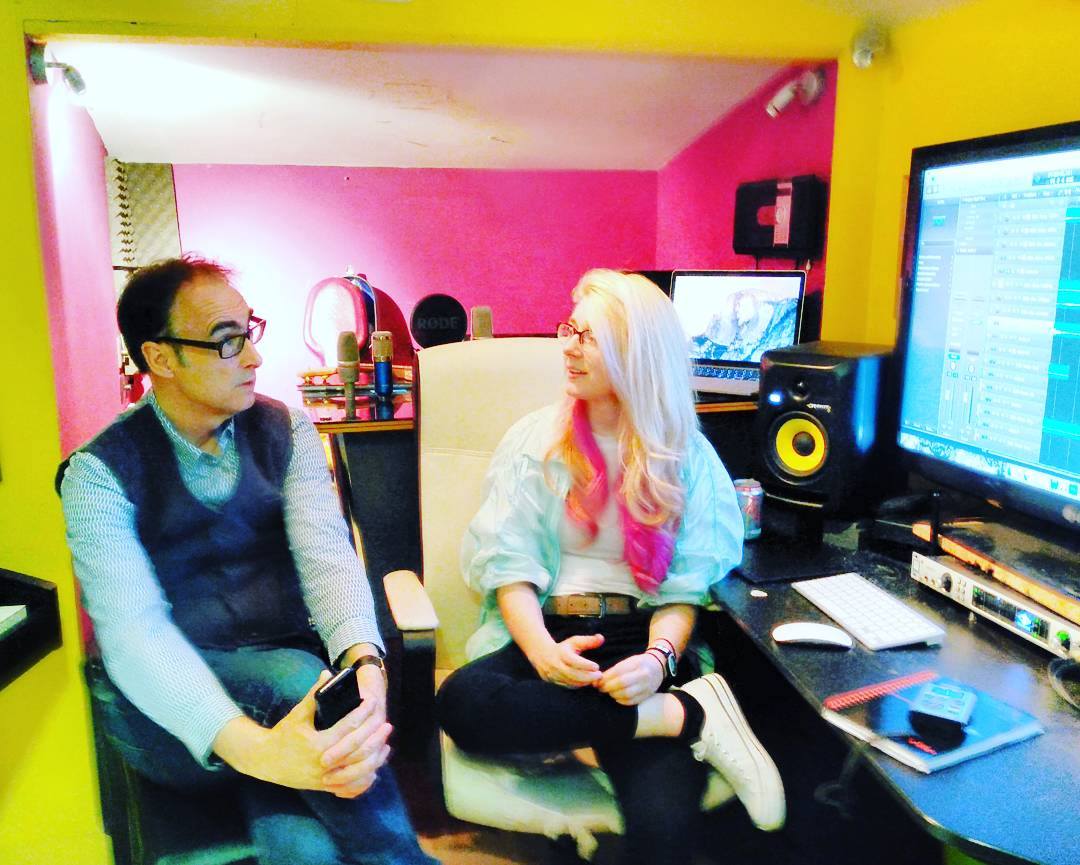 TESTIMONIALS
'I honestly don't think I could've made Songbirds without Lauren. Her openness and willingness to try things differently meant that we created a very unique sound. A very unusual mix of quiet confidence with a youthful/fresh perspective makes her a particularly strong producer to work with'. Kate Dimbleby (four plays on BBC Radio 2 and four on BBC 6 Music)
'I was lucky enough to make my new CD with Lauren - she both recorded and produced it. Recording with her was brilliant, she managed to encourage the best performance from me whilst keeping the process enormous fun! Lauren's talent is listening to a song and knowing how to bring out the best arrangement, whilst keeping the original essence intact.' Bella Gaffney
'..label boss Helen Meissner says she wants to champion female songwriters with this release and bang the drum a bit especially as we have a female producer Lauren Deakin Davies who has produced all bar one of the tracks on this fine compilation of grass roots female artists. And many thanks to Helen for pointing out to me in good time that today's show falls in International Women's Day, which is why the whole show celebrates women; women's achievement, women's pride and womens' struggle." Tom Robinson on air, BBC6 Music. March 2015. After playing a track from The F Spot Femmes Fatales on two consecutive shows 7/8th March.
'Lauren was wonderful to work with on my latest EP 'Fly'. (released late 2016). She is very calm and focused while producing which helped my creative process. She has a great ear and worked quickly too. The EP was recorded and producer with Lauren as a result of funding by Arts Council of Wales, and it was her track record which helped secure the funding. Here's some highlights which were down to Lauren's efforts and the reaction to the EP
*BBC Radio Wales presenter Adam Walton described a track recorded and produced by Lauren as timeless, 'it could stand up in any era'.
*I got to perform the some of the tracks on Live National Television in Wales.
*The EP went on to secure festival opportunities such as a performance on the BBC Introducing Stage at BBC Country File Live in Blenheim Palace.
*Tracks from the EP were played on BBC 6 Music and made playlists on Welsh National Radio such as BBC Radio Cymru, Radio Wales and Amazing Radio.' Danielle Lewis
"The clear and crisp production ensures that the delivery is about as pure as you'd want it to be without it being sterile, i.e. you can hear the personality of the artist bursting forth in the song and you can't ask any more of an artist than that" Neil King (FATEA Magazine)
"Lauren Deakin-Davies who produced Kelly's debut album, 'This Land', captured the folky nuances displayed in both Kelly's vocals and songwriting perfectly." Malcolm Carter (Black Penny Music)
"An important thing to note about Lauren is that she is a musician herself, and a very competent one at that. You can therefore put your complete trust in her and rest assured that, when recording. She is friendly, encouraging, and an absolute pleasure to work with. Recording is an intimate, and often a long process, and Lauren has that quality of making you feel completely at ease, which in turn brings out the best in your recording sessions. She is passionate about her work - the finished product is not just an example of your talent, but of hers as well, so she puts the same level of feeling and thought into her part of the process as the artist does with their part. I think that is a necessity when you're recording with a producer, it's essential for you to highlight an issue and then say 'Can you hear it as well?' and your producer say 'Yes I can hear it.' This is exactly the response Lauren gave throughout the entire recording process, and not only does she pick up on faults that might otherwise go unnoticed, she was able to effectively fix every problem or issue that I highlighted to her. Above all, she is patient. She doesn't rush or pressure you, and as an artist who wants the finished product to be the best I can deliver, it is only through recording with someone with Lauren's patience that this could ever be possible." Kelly Oliver who has worked with Lauren on This Land and Bedlam
I have been delighted to be asked to talk to school children, lecture students and run workshops for producers on topics ranging from being a woman in music, making a living out of music and being an LGBTQ+ producer.
'Lauren's relaxed and friendly personality brought out the best in all of the guests at the recent London Red Bull #Normal Not Novelty workshop she hosted. She tailored the content to make sure that everyone would learn something useful, and she asked all the right questions of the guests to get them engaged and involved. Lauren is extremely talented in many areas, and she used her many skills to give guests invaluable information - thanks for speaking at Normal Not Novelty Lauren!' Katie Tavini - Mastering Engineer. Host at Red Bull Studios.
Impington College – talk by Lauren Deakin Davies on production and tech in music. (June 2017)
Stef: I loved hearing Lauren's songs and finding out about how music is produced. It was cool to hear how she started by leaving school and how she did well! James: Very good talker, good music! Genaro: We got to hear songs and techniques from a professional singer songwriter and got useful feedback on our songs. Eric: We saw some interesting pedals to have fun with. Rachel: I was inspired by her and related to the music. I learned how useful music tech is.
Les Ray – course leader: Lauren was an excellent guest speaker for the students because she provides a fine role model for young girls (these were aged 14) as regards such things as making your way in a male-dominated business, showing girls they can be interested in techy stuff, that it is not exclusively for boys. She also has a real knack with explaining the creative process, which as great for all the students. All the students found Lauren friendly and engaging, but also incredibly knowledgeable. I found that she was very professional and committed. I would not hesitate to ask her to come and speak to students again in a future course.
'Lauren came to our music collective in Bristol to deliver a workshop about production and recording in a home studio environment. She kept the group engaged from start to finish and many of the participants commented on how much she covered in a short space of time. Lauren is able to bring a great range of information together in a way that is accessible, easy to understand and well pitched to the group in front of her. What she delivers is hands on and practical as well as technically informative. We are looking forward to working with her again soon.' Anna Kissell, Bare Bones Collective, Bristol
'..she's only 21, youngest member of Music Producers Guild … a very gifted young producer and performer, she's a very bright girl who's produced a good number of acts…' Chris Hawkins on air, BBC 6 music